Posts Tagged 'Diary of a First Child'
I look back on these pictures and can never believe the week's gone by so fast!
Also can't ever get over how cute she is.
Hope you enjoy this week's Mamatography!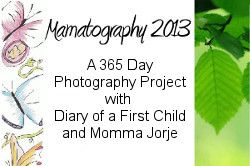 Woohoo! Getting all caught up on my Mamatography this week!
I'm loving having all these picture to look back on and so looking forward to pulling them all together at the end of the year.
Bean has been growing by leaps and bounds in so many ways…it's easy to feel she's slipping from my grasp faster than I can hold on. It's so great to have these pictures to remind me of things like her absolute joy in going on walks, the fun she has with our pets, and all the little games she initiates on her own.
Now I just need to get some recordings of her singing Row, Row, Row Your Boat and Ring Around the Rosie…
In the meantime, here are our pictures from Week 6!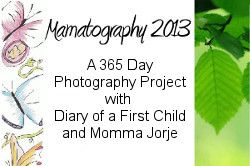 One of my projects for 2012 (inspired by Luschka of Diary of a First Child) is to take a photo of Bean every day of the year.
I've been lagging on posting my pics over the past couple of weeks so this is a bit of catch up, but getting closer to being on track.
Hope you enjoy!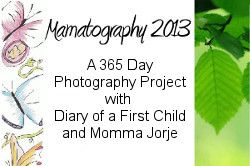 OK…so we've gotten a little behind on our Mamatography project..
I've been taking the pictures – just failing in the area of uploading them.
This week will be an attempt to play catch up. Here's Week 4!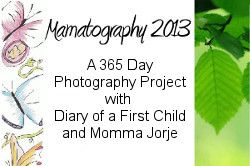 It's 21 days into this year's photo project and according to Luschka of Diary of a First Child (the inspiration behind this project) those of use who are participating have now created a habit of taking a photo every day!
(That doesn't exactly explain why I forgot to take one on the 22nd day…but I guess I'm just awesome that way.)
But for the most part, I really am in the habit and finding this project to be so much fun - the most difficult piece is really choosing which picture to use each day!
Here's a look from the days of our third week in January (you can catch Week 2 here)…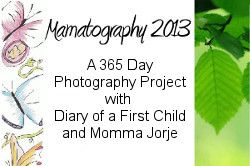 My Mamatography, or 365 day Photo Project, continues…
Inspired by Luschka of Diary of a First Child and together with several other awesome mamas, I'm taking Wednesdays to share pictures of my beautiful Bean – one for each day of 2012.
You can find Week 1 of my project here, and see below for January 9-15 (and be sure to check out posts from the other contributors if you get the chance)!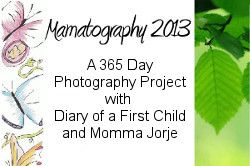 One of my new projects for 2012 is a Mamatography – taking 1 photo every day for the next 365 days.
My goal for this project is twofold – a picture of Bean every day to share here (hopefully on Wednesdays) and a picture of myself every day as kind of a reflection/inspiration/motivation type thing (which is more of a 'just for me' thing).
Well, so far I've taken one picture of myself! It's harder because there is really only one full-length mirror on our house, in an awkward position, and I always forget to ask the hubs to take a photo of me when he is actually able to. I am going to try to work on figuring that one out a bit better, though.
The Bean project, however, has been going great! I am really quite proud of myself for keeping up with this for an entire week (I know – but I suck at that kind of commitment lol!).
And I've been pleasantly surprised already by one of the benefits of this project. I feel like I'm getting to know my baby Bean a lot better once again.
I returned to work in August after having an entire year of her with me every day. It was a separation I felt (and still feel) very keenly. She's done great with it – she goes to her grandparents every day; she adores them and vice versa – pretty much not a sign of separation anxiety in her.
But over the past months, I've really been feeling like I've lost an essential connection with her. It's not been so much a huge wrench as more of a dull, toothache kind of pain – an undercurrent that's always there beneath the surface. Really, it's been very difficult and I think worse than I've even realized.
But taking these pictures…I've just felt a lot better over the past week. Adding another aspect of intentional focus on her; making the effort to remember it every day – and I get a piece of her to take away and have to look on again and again…it's been an amazing consolation to me.
So I owe a huge thanks to Luschka of Diary of a First Child for inspiring this project, and I'm really looking forward to continuing it! And now you get to enjoy the cuteness!
Pictures from January 2-8 are below – for January 1, see here. Read the rest of this entry »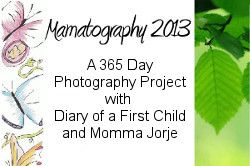 Happy New Year!
Though I'm a bit in denial that it's actually 2012, I'm still feeling that rush of excitement and good intentions that a New Year always brings. Things I hope to do…eat better, be more responsible, blog more, etc., etc., have been swirling around in my head over the past several days…
Together with that, I'm beginning a new project – inspired by Luschka of Diary of a First Child – called a Mamatography. Basically, it involves taking at least one photo every day for the next year. Beyond that, the options are pretty much up to me – I could pick a theme, or a project to track, or just take a random photo every day.
I've decided to do two – one to share here, and one just for me. Read the rest of this entry »
Inspired by I Thought I Knew Mama, I thought I would share a few pictures of the husband from when he first became a daddy:
Wishing a happy Father's Day to the best husband and dad I know, hands down! I love you Dave…
And with that, here are some of the great posts I've been reading this week… Read the rest of this entry »
I don't have a ton of inspiration today…my brain is foggy, my body is dragging and my eyes are drooping…
If you haven't already guessed it, the Bean decided last night was the night for a 1:00AM party!
As much as we like to complain sometimes, I will fully admit that sleep has not really been a nightmare for us as I know it has been with many parents. Bean did not take long to figure out the difference between night and day. We co-sleep, so I never have to drag my butt out of bed to tend to her needs.
We even had a handful of nights around 3-5 months that she slept through the entire night!
For awhile I thought I had that wonderful, unattainable dream baby that made all my other parent friends hate me. But then she settled into a routine of waking 2-3 times/night to eat, and I started to realize that I actually wanted her to be doing that - after reading more and coming to a better understanding that at this young age, most babies still need to get some food in their bellies through the nightime hours!
Over the past few months she's been on a fairly regular schedule (with occasional exceptions) – waking between 10 and 11, and again between 3-4. She will eat and then go right back to sleep. She's then up with daddy between 6-7; I get up to make breakfast not long after that, but I usually get at least a half hour of having the bed to myself. I like to call it my best sleep of the night!
But the past few nights…ooh boy! Read the rest of this entry »