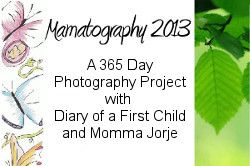 Woohoo! Getting all caught up on my Mamatography this week!
I'm loving having all these picture to look back on and so looking forward to pulling them all together at the end of the year.
Bean has been growing by leaps and bounds in so many ways…it's easy to feel she's slipping from my grasp faster than I can hold on. It's so great to have these pictures to remind me of things like her absolute joy in going on walks, the fun she has with our pets, and all the little games she initiates on her own.
Now I just need to get some recordings of her singing Row, Row, Row Your Boat and Ring Around the Rosie…
In the meantime, here are our pictures from Week 6!
Check out the other Mamatography participants at the linky hosted by Diary of a First Child!
3 Responses to "Mamatography 2012 ~ A 365 Day Photo Project ~ Week 6"