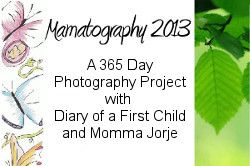 It's 21 days into this year's photo project and according to Luschka of Diary of a First Child (the inspiration behind this project) those of use who are participating have now created a habit of taking a photo every day!
(That doesn't exactly explain why I forgot to take one on the 22nd day…but I guess I'm just awesome that way.)
But for the most part, I really am in the habit and finding this project to be so much fun - the most difficult piece is really choosing which picture to use each day!
Here's a look from the days of our third week in January (you can catch Week 2 here)…
Hope you enjoy your week – and be sure to check out some of the other participants' photos!
6 Responses to "Mamatography 2012 ~ a 365 Day Photo Project ~ Week 3"