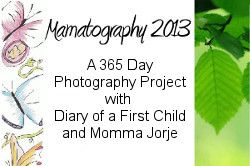 One of my new projects for 2012 is a Mamatography – taking 1 photo every day for the next 365 days.
My goal for this project is twofold – a picture of Bean every day to share here (hopefully on Wednesdays) and a picture of myself every day as kind of a reflection/inspiration/motivation type thing (which is more of a 'just for me' thing).
Well, so far I've taken one picture of myself! It's harder because there is really only one full-length mirror on our house, in an awkward position, and I always forget to ask the hubs to take a photo of me when he is actually able to. I am going to try to work on figuring that one out a bit better, though.
The Bean project, however, has been going great! I am really quite proud of myself for keeping up with this for an entire week (I know – but I suck at that kind of commitment lol!).
And I've been pleasantly surprised already by one of the benefits of this project. I feel like I'm getting to know my baby Bean a lot better once again.
I returned to work in August after having an entire year of her with me every day. It was a separation I felt (and still feel) very keenly. She's done great with it – she goes to her grandparents every day; she adores them and vice versa – pretty much not a sign of separation anxiety in her.
But over the past months, I've really been feeling like I've lost an essential connection with her. It's not been so much a huge wrench as more of a dull, toothache kind of pain – an undercurrent that's always there beneath the surface. Really, it's been very difficult and I think worse than I've even realized.
But taking these pictures…I've just felt a lot better over the past week. Adding another aspect of intentional focus on her; making the effort to remember it every day – and I get a piece of her to take away and have to look on again and again…it's been an amazing consolation to me.
So I owe a huge thanks to Luschka of Diary of a First Child for inspiring this project, and I'm really looking forward to continuing it! And now you get to enjoy the cuteness!
Pictures from January 2-8 are below – for January 1, see here.
It's not too late to join in with the Mamatography 2012! Visit Diary of a First Child to find out how.
7 Responses to "Mamatography 2012 ~ A 365 Day Photo Project ~ Week 1"